AirConception Race as a school machine
We decided to use AirConception Race paramotor as Paramotoring Ireland school machine. Made of G9 titanium (which is 50% lighter than stainless steel), this robust frame is only 5.5lbs and it is one of the lightest on the market.
It features 16mm narrow profile titanium tubing through out and ergonomic cantered design for improved flight dynamics.
Includes comfortable Supair harness, 3k carbon fiber spars and seat board, carbon fiber propeller.
Standard configuration includes titanium weight shift arms. The cage is is a very stiff 16MM thick titanium, and the entire frame and cage  have a matte polished finish.
Engine: 200cc. 2 Stroke. 40:1 synthetic oil.
28hp @ 8100 rpm.
1:2.7 belt drive.
11.3kg engine with steel exhaust.
Double compression joint exhaust.
Carbon fiber silencer.
Advanced internal & external engine cooling.
Anti slip triple belt life technology.
All bolts thread locked and position marked.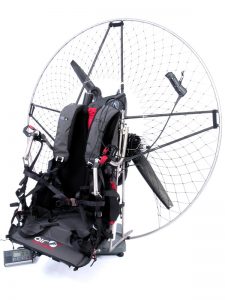 It looks like this powerful machine is one of the lightest available today! Very comfortable harness and optional electric starter makes it excellent choice. Students are really happy and we are delighted.
More details on the AirConception paramotor here.
Machines comes in two models - aluminium frame Delta and titanium frame Race and we have become AirConception paramotor dealer in Ireland. Contact us below for prices and availability:
Paramotoring Ireland
Cathal Fowler
Enfield, co Meath
Telephone: +353 86 838 96 44
E-mail: info@paramotoringireland.ie