Dudek Orca XX Cabrio
Dudek has provided us with its new excellent wing! It is new Orca XX Cabrio with reinforced layers and mighty 41 square meters. This wing is certified to 215kg, for tandem flights and light powered trike flying. We are literally over the moon!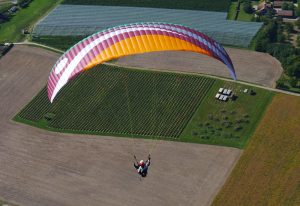 Build-wise, it's a four-liner with sharknose intakes on the aerofoil, inner reinforcements and trailing-edge mini ribs.
A windsock and 'small gifts' coe in the package with each brand new wing. Check on manufacturers website here.
We are planning to introduce tandem flights soon. As a gift for thrill seekers and also as a introduction for a paramotor training. Contact Cathal here.